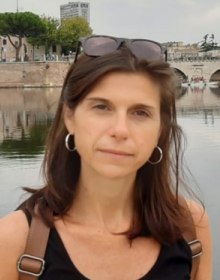 Flood risk analists, Mrs. Daniela Molinari (Politecnico di Milano) is an expert in flood risk assessment and management, with particular expertise in flood damage evaluation. Mrs. Daniela Molinari got a PhD in Hydraulic Engineering at Politecnico di Milano in 2011. Soon after she started the collaboration with the Department of Civil and Environmental Engineering of Politecnico, first as post-doc and now as a senior researcher. Recently, she has also been nominated Delegate of the Director for the communication policies of the department.
She lead or has been involved in several European and national research project dealing with flood risk and damage assessment, among them: (1) IDEA (PREVENTION AND PREPAREDNESS PROJECTS IN CIVIL PROTECTION AND MARINE POLLUTION): Improving Damage assessments to Enhance cost-benefit Analyses, (2) ENSURE (SEVENTH FRAMEWORK PROGRAMME): Enhancing resilience of communities and territories facing natural and na-tech hazards and (3) Poli-RISPOSTA - stRumentI per la protezione civile a Supporto delle POpolazioni nel poST Alluvione (Polisocial Award 2012-2013, Politecnico di Milano) and (4) Flood-IMPAT+ (FONDAZIONE CARIPLO): an Integrated Meso & micro scale Procedure to Assess Territorial flood risk.
Daniela collaborates with several national and local authorities dealing with flood risk management in Italy, among them some of the Italian Civil Protection Authorities and the Po River District Authority.
She is the vice-chair of the Flood Risk Management Technical Committee of IAHR (International Association for Hydro-Environment Engineering and Research) and a member of the Panta Rhei Working Group "Changes in flood risk", a research initiative within the IAHS (International Association of Hydrological Sciences),
Daniela is author of more than 50 publications, including 2 books and 22 scientific papers.
She is presently lecturer at the master of science program of Politecnico di Milano CERM (Civil Engineering for Risk Mitigation – www.master-riskmanagement.lecco.polimi.it) in the module "Emergency Plans for Hydrogeological Risk"
» Report misspelling and misinformation, please write to iahrBeijing@iahr.org