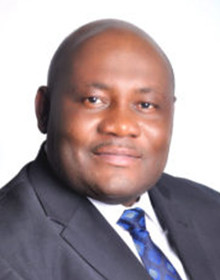 Professor Samuel Nii Odai was appointed Vice-Chancellor of Accra Technical University on July 3rd, 2019, taking over from Professor Edmund Ameko, who was in acting position.

He is a professor of Hydraulics and Water Resources. He was a two-time Pro-Vice-Chancellor of the Kwame Nkrumah University of Science and Technology, having risen through the ranks as a lecturer in the Department of Civil Engineering. He is a recipient of the prestigious National Best Research Scientist Gold Award for water, environment, and sanitation, and a distinguished Commonwealth Academic Fellow. He is also the founding director of the West African Science Service Centre on Climate Change and Adapted Land Use (WASCAL).
As a water resources engineer with expertise in computational hydraulics, his work spans the areas of Open Channel Hydraulics, Urban Drainage and Flood Management, Applied Hydrology, Integrated Water Resources Management, and Water Supply and Environmental Sanitation.
He has researched into several areas of concern in water resources, including the development of two efficient approximate models (the Burger's Equation Model and the Nonlinear Kinematic Wave Model) for simulating water flow in open channels. His research findings have been published in top journals like the American Society of Civil Engineering (ASCE) Journal of Hydraulics, International Association for Hydro-Environment Engineering and Research (IAHR) Journal of Hydraulic Engineering, Physics and Chemistry of the Earth, Elsevier, among others. He is a member of the Ghana Institution of Engineers, the International Association of Hydraulic Research, the American Society of Civil Engineers, and the International Association of Hydrological Science.
Aside from these remarkable feats, Professor Odai has extensive international experience, including Visiting Professor of Integrated Water Resources Management at the Tokyo University of Agriculture and Technology. He has been a consultant for DANIDA, IUCN, and worked for UNESCO−IHE in facilitating workshops in Zimbabwe and training in Indonesia and Ghana.
Professor Odai was born in Tema where he had his basic school education at Twedaase Primary and Middle Schools. He proceeded to the Koforidua Secondary Technical School where he sat for the General Certificate Examination (GCE) Ordinary and Advanced Levels. He obtained a Chinese Government Scholarship and proceeded to study the Chinese language at the Beijing Languages Institute in Beijing. He then moved to the Hohai (River and Sea) University and graduated with BEng in Irrigation and water Conservancy Engineering (in Civil Engineering). He returned to Ghana and had his national service at the Irrigation Development Authority head office in Accra.
Professor Odai until his appointment as the Vice-Chancellor of the Accra Technical University, was the head of Civil Engineering Department of the KNUST.
He is a Christian and worships with the Calvary Charismatic Centre (CCC) Kumasi. He is also a Sunday school teacher and a marriage counselor. Professor Odai is married to Maurin and they are blessed with three children; one daughter – Marveline, and two sons − Adriel and Rophel.
» Report misspelling and misinformation, please write to iahrBeijing@iahr.org